BAD-ASS M&P15-22 SMITH & WESSON Ambi Safety Selector AR15 / AR10®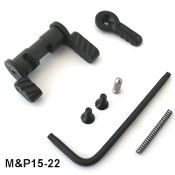 BAD-ASS M&P15-22 SMITH & WESSON Ambi Safety Selector AR15 / AR10®
Battle Arms Development - Ambidextrous Safety Selector (BAD-ASS-MP15-22) for the SMITH & WESSON M&P15-22 rifle. The Levers are detachable and interchangeable on both sides for maximum flexibility and user preference. There are a total of (9) Lever Designs and (81) Possible Lever Combinations! The BAD-ASS-MP15-22 is a must have for the "South Paw" and Ambidextrous Shooters! Each Retail Package Comes With:
(1) SAFETY BAR/AXIS

(2) LEVERS

-

CHOOSE ANY (2) LEVER COMBINATION

from the following 9 lever designs:




STANDARD

SHORT
THIN
SHORT+THIN

HYBRID (+$6)
CRANK (+$6)

SHORT CRANK (+6)
SCALLOP (+$6)
END CAP


(2) TORX SCREWS

(1) HARDENED STAINLESS STEEL SAFETY DETENT (by KNS Precision)

(1) T10 TORX L-Key

(1) SELECTOR SPRING

Precision CNC Machined from Solid Bar Stock Steel!

MADE IN U.S.A.

PATENT PENDING
Note: ArmaLit e and AR-10 are registered trademarks of ArmaLite, Inc.
Reviews