BATTLE ARMS BAD-EPS-Ti (Enhanced Pin Set - Titanium) AR15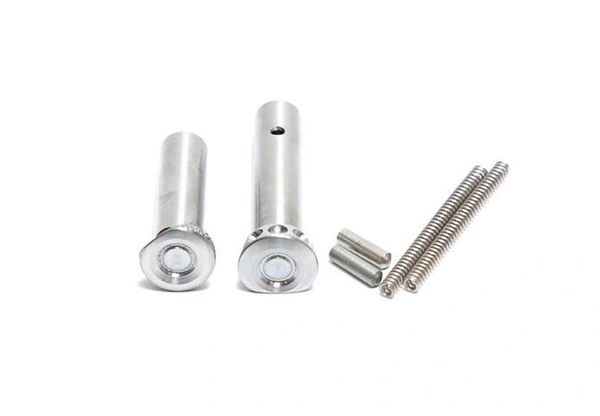 BATTLE ARMS BAD-EPS-Ti (Enhanced Pin Set - Titanium) AR15
Battle Arms Development Enhanced Pins set consists of the ETP-Ti (Enhanced Takedown Pin - Titanium) and EPP (Enhanced Pivot Pin - Titanium). Precison CNC machined from Grade 5 Titanium. Natural machined Titanium finish. Approximately 50% lighter than standard steel pins. Perfect for the lightweight builds.
The BAD-EPS-Ti features the following improvements and features:
AR15 Compatible - fits all AR15 lower receivers with mil-spec .250" diameter front pivot and rear takedown pin holes.
Patent Pending Pivot Pin & Takedown Pin Head Designs - greatly improved gripping surface and pull strength without the use of oversize heads.
Low Profile Pin Heads - low drag and never in the way. Lower profile than mil-spec pin heads.
Ambidextrous Safety Compatible - the ETP-Ti (Enhanced Takedown Pin) head design does not obstruct the use of the right side ambi safety selector lever.
Extended Pin Tips (+0.030" over milspec) - added tip length noticeably aids in starting/pushing the pins out from the left side of the receiver, without undue protrusion.
Bullet Tip Guide - cone shaped recess at both pin tips prevent accidental bullet or tool slip and reduced the chance of scratching/damaging of the receiver.
Patent Pending EZ Guide Channel - The additional EZ Guide Channel provides easy, assisted installation of the BAD-EPP-Ti (Enhanced Pivot Pin - Titanium). No more lost detents and springs.
Light Weight - .016 lbs / .256 oz - approximately 50% weight savings from standard steel pin sets.
Each BAD-EPS-Ti comes with (1) BAD-ETP-Ti, (1) BAD-EPP-Ti, (2) KNS hardened stainless steel detents and (2) 17-7 nickel plated stainless steel pin springs.
Proudly designed and manufactured in the U.S.A.
Notes:
1. AX556 owners please note that the BAD-EPP-Ti is incompatible with the AX556 receiver due to the receiver's proprietary design. The BAD-ETP-Ti will work as designed.
2. Depending on your M16 receiver, may not be compatible with the KNS anti-walk sear pin without modificaiton to the KNS anti-walk sear pin.
Reviews