Battle Arms Development VERT STOCK SYSTEM-PDW Bolt-On Stock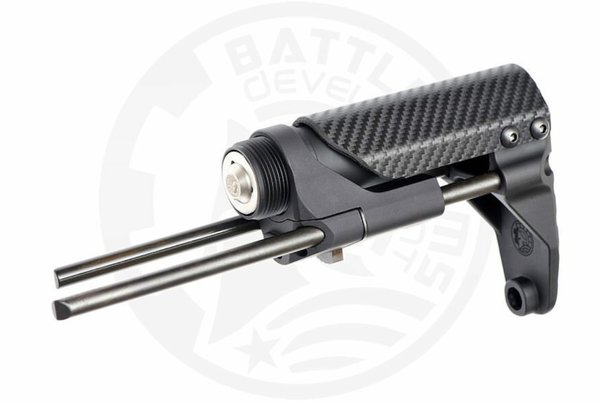 Battle Arms Development VERT STOCK SYSTEM-PDW Bolt-On Stock
IN STOCK AND READY TO SHIP!
Battle Arms Development's latest *VERT (TM) STOCK SYSTEM ONLY 19.5oz!
· Continuous Cheek Rest
· Interchangeable Cheek Rest (different colors/patterns, coming soon)
· Ultra Compact Buffer & Buffer Spring
· Fully Collapsed Length = 4.75"
· Fully Extended Lenght = 8 3/4"
· (4) Locking Stock Postions
· Stock Locks Both Directions
· Precision CNC from Aircraft Grade Aluminum & S7 Tool Steel
MilSpec Type III Class 2 Hard Anodized Black
· (2) Built-In Non-Rotating QD Points
Lightweight 19.5 Ounces (Complete Stock System with Buffer & Springs)
· Made in the USA
· Patents Pending
*Notes: Receiver Not Included. Stock & Buffer System designed for 5.56/.223 direct gas impingment system only. Other systems such as piston and 9mm still under testing and development.

WARNINGS:
· Will not work with solid filled 9mm bolt carrier
· VERT TM buffer system is designed for 5.56/.223 direct gas impingement system
· VERT TM buffer system can work with piston driven AR if the rear, internal dimensions of the bolt carrier is Mil-Spec
· Use of FAIL ZERO NICKLE BORON Bolt Carrier may cause damage to the buffer system due to the I.D. (Inside Diameter) of the BCG being undersized
· Inside, rear cavity of the bolt carrier must be .625" diameter x .625" deep minimum to clear the buffer. Damage may occur if proper clearance isn't met.
Reviews